About Kasturba Sevashram
Kasturba Sevashram was formed back in 1930, one of the oldest Indian independent non-profitable organization and Pujya Gandhiji the father of nation himself laid the first foundation stone to built the Maroli Ashram.
The former members Ms Mithuben and Mr Kalyanjibhai asked Pujya Gandhiji to endorse the good cause and Mr Sardar Patel became the founder trustee for the setup. The purpose of Kasturba Sevashra is to empower the downtrodden and linking them to the main stream through education and training in Gujarat.
Sustainability, social equality and environment are not problems that can be ignored, because corporate leaders cant depend on governments to solve them, leaders like Pu Mahatma Gandhiji and Mr Sardar Patel found an echo in the ideologies behind Kasturba Sevashram which was formed in 1930 by the duo enjoying eminent position in the society, Ms Mituben and Mr Kalyanjibhai who decided to finance, handhold and support the genuine underprivileged and mentally challenged children. In the process becoming the first ever recognition for the course and changing the face of thousands of lives in Gujarat (India).
The former individuals who do not need any introduction in the history of India, this mission did not leave the torchbearers for quite sometime. Now with the right people at the helm of the affairs this mission will not stop till the objectives have been met.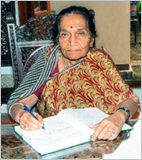 We are one of the organization which do a lot to make world a better place to leave. My greatest desire in presenting this Website is to record the activity carried out till date to uplift leaving standard of rural citizens of India. Post Independence era was full of problems like Poverty, lack of education, increasing population and many more… Through efforts of stalwarts of Kasturba Sevashram it was possible to develop infrastructure to support backward and tribal population of Gujarat. Today Kasturba Sevashram operates in Navsari, Surat, Bharuch and Narmada district of Gujarat. Arrangements were made so that larger population can be supported in best possible manner.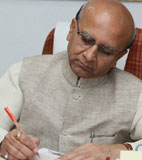 KASTURBA SEVASHRAM, Maroli, Taluka: Jalalpor, Dist. Navsari is a National Heritage of MAHATMA GANDHI, our father of Nation. Its history is also very elegant. With this, the names of so many famous charitable dignitaries have been actively involved. Before eighty years from today, during golden-age of the INDEPENDENCE struggle, an innumerable sons of BHARAT MATA did leave their all the Luxury belongings with smile for the independence of the Country, just at the WORD of Shri Mahatma Gandhi. They even sacrificed their Lives and became martyr for the country. The present independence, happiness and the entire facilities which are being enjoyed by us are the result of the aforesaid sacrifice and Martyr.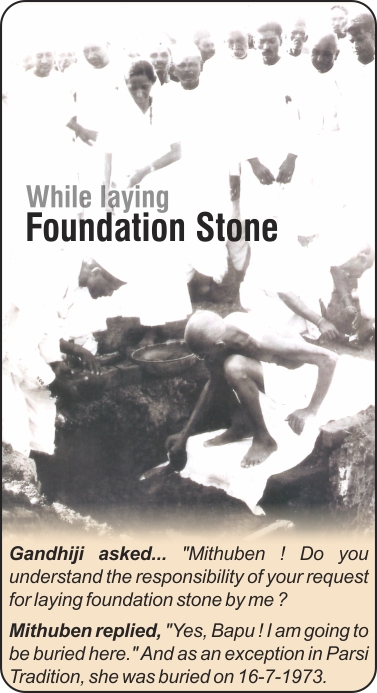 1st Dec, 1930 : Hon. Kasturba laid the foundation stone for "Kasturba Vanatshala"
12th June, 1931 : Commencement of first building structure inaugurated by Mahatma Gandhi.
1930 – 1931 : First Mobile Dispensary with Doctor started.
1932: Chastwad Hospital formed in the forest areas of Rajpipla for tribals in the area.
1934: Kasturba Vanatshala re-estabilished as Kasturba Sevashram to expand the area of operation.
17th Oct, 1934: Maroli asylum inaugurated by Shri Sardar Vallabhbhai Patel.
7th June, 1939: Maroli health building inaugurated by Shri Mangaldas Pakvasana.
7th June, 1942: Shri Hormasji Pitit inaugurated the building for the patients
15th Feb, 1950: Dr. Jivraj Mehta inaugurated the residential building for the patients "Sayaji".
1st Feb, 1951: Training centre for newly appointed mentors started.
2nd Oct, 1951: Balasaheb Kher inaugurated the first of its kind library named after Shri Mahatama Gandhi.
26th Jan, 1954: Commencement of Chaswad Ashramshala.
15th Jan, 1956 : Commencement of Ambawadi Ashramshala
5th May, 1956: Silver jubilee year celebration of Kasturba Ashramshala.
1st June, 1956: Kevdi Ashramshara started.
10th June, 1957: Commencement of Kevdi General Hospital
1st Nov, 1958 : Commencement of Maroli Ashramshala
21st June, 1960 : Shri Jawaharlal Nehru inaugurated the Sayajirao Mental asylum.
26th Jan, 1961: Hon Mithuben Pitit fecilitated by the highest award "Padmashree"