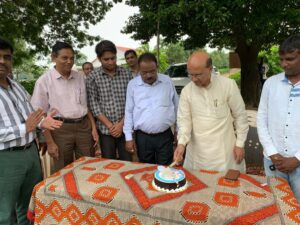 On Prime Minister Narendra Modi's 72nd birthday on Tuesday, conversations from "reviving" the cheetah to diverting the Bharat Jodo Yatra played out. While the ruling party arranged blood donation camps and outreach programmes on the day, the Opposition criticised the "spectacle" and rallied behind the issue of unemployment.
Don't Miss |HashtagPolitics | Happy birthday, PM, but 'ideological and political' battles will continue, says Oppn
The cheetah at Kuno
Seven decades after they became extinct in India, eight cheetahs from Namibia arrived at the Kuno National Park in Madhya Pradesh in a special cargo flight. Three of them were released into an enclosure by PM Modi on his birthday Saturday.